Wednesday 6: 36 pm.
ACCESSORIES AND SPARES FOR YOUR TRAILER
Whether you are building your own trailer or replacing some worn out parts some of our spares may be suitable for a variety of applications.
Please note it is the responsibility of the purchaser to satisfy themselves that parts are suitable for use on other brands of trailer.
PVC COVER FOR THE ATLAS TIPPING TRAILER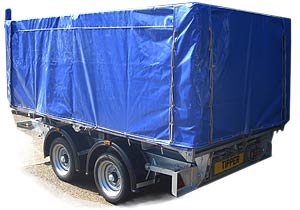 Our Heavy Duty PVC Cover fits over cage extensions and is a snug fit
£395 + vat
Click the picture to see an enlargement

Small Cover: We also supply a PVC cover for low sided version of our tipper trailers.
£160