Horticulture Week - Product Review of the Atlas Tipper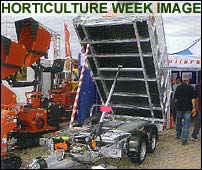 It is a box trailer with removable wire-mesh ladder rack and optional partition; it's a flat-bed trailer with on-board storage ramps; and it's a high sider for estate maintenance. The Atlas trailer can be all these but basically it's a 3,500 kg tipper.
It looks tough and durable. In fact, it has that "built to last" feel about it. The braking system is by Knott Avonride, it has a 1.800kg Peak solid-beam axles and features a heavy-duty jockey wheel from Bradley. A remote tipping switch operates the motor via an onboard battery.
Battery power is only used to raise the bed: a solenoid uses gravity to lower the bed in order to save on battery usage. That's good, but what we like about it is it's versatility - adapt it as you see fit for materials or plant transport: use it for waste collection or as a general-purpose trailer. All this for £2,750 ex vat.
Ekin is impressed. "It looks substantial and well made", he says, "With the partitions is place your could organise your load of various loose materials - for example, sand in one part, gravel in another, woodchips in another.
But look at this: under the bed there is secure box. It could do with being bigger but as it is you could easily paint it yellow and then it would do nicely for one-litre containers of Roundup. Nobody would be able to see it when the bed was down."
For more information call Atlas/Edwards Trailers on 01759 373 062 (Yorkshire).
7 June 2007