Wednesday 6: 27 pm.
THE ATLAS TIPPING TRAILER - VERSATILITY AND VALUE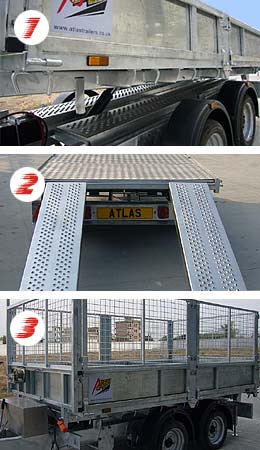 The 3 in 1 tipping trailer
The Atlas Tipper Trailer is a great deal. Our versatile tipper with optional accessories is really three trailers in one compact package consisting of:
1. A Box Trailer with removable ladder, wire mesh ladder rack and unique optional partitions
2. A Flat bed trailer with storable ramps
3. A High sided trailer perfect for estate maintenance
This makes the Atlas a very versatile package. Use it one week for transporting vehicles, and hire it out the next week for collecting waste or delivering materials.
Find out more about owning a great tipping trailer at an amazingly low price.
More information: